Director Photography Work
Cinematographer Work
#REEL 2021
#RENAULT CLIO - CHEF
#Camper Van
#Miguel Gameiro Feat Mariza - O Teu Nome
#SUSHI FACTORY
#O Que Há de Vir
#Mr. Sunglasses
#I"m a Danone little body!
#Youmi
#Slim & The Beast - Lisbon | Director's cut
#É Preciso
#HOLMES PLACE - SPARTANS
#Come to Portugal
#Joggers
#Mimosa Bolachas SM
EFACEC - When you grow up
#RENAULT CLIO - DANIEL
#CASTLES - TAVERN SCENE
#BMX
#Nescafé Dolce Gusto
#RENAULT CLIO - DESIGNER
#Go Green
#WELLS - PENELA SCENE
#TRAMS
#RENAULT CLIO - PEDRO
#CAMILE - BISCOCHO
#DAB
#WELLS - CLOISTER SCENE
#Nariz Vermelho
#CASTLES - LIBRARY SCENE
#The Devil"s Picture Book
#WALLS - TOWER SCENE
#JANSEN BEER - GUY
#JANSEN BEER - GIRL
#CASTLES - FIGHT SCENE
#Lisbon Smarter
THEY SAY ABOUT IT
An asset. Kept the energy. Funny to work with. Nothing phases his creativity.
Director of Photography or Cinematographer, [DP or DOP]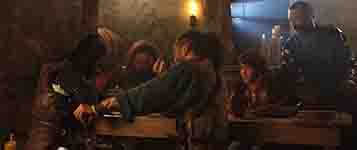 Director of photography or Cinematographer, [DP or DOP] is the chief over the camera crews working on a film, television production or other live action piece and is responsible for achieving artistic and technical decisions related to the image.
Some filmmakers say that the Cinematographer is just the chief over the camera and lighting, and the Director of Photography is the chief over all the photography components of film, including framing, costumes, makeup, and lighting, as well as the assistant of the post producer for color correction and grading.
Be Creative

Creativity is to discover a question that has never been asked.

attention to detail

After reading the screenplay, Directors of Photography meet with the Director to discuss the visual style of the film. They conduct research and preparation including carrying out technical aspects of locations.

experience

They must be flexible in order to adapt ideas instantly, and to be able to take decisions quickly. Knowledge of photography, painting and, particularly of the moving image, is essential.

technical knowledge

A combination of practical, technical and creative expertise is required, as well as considerable industry experience, in order to achieve the best results while also saving time and money.