#Joggers
#RENAULT CLIO - CHEF
#REEL
#Retrato Trailer
#Camper Van
#Miguel Gameiro Feat Mariza - O Teu Nome
#A Série Trailer
#SUSHI FACTORY
#O Que Há de Vir
#Mr. Sunglasses
#I"m a Danone little body!
#Youmi
#Slim & The Beast - Lisbon | Director's cut
#É Preciso
#HOLMES PLACE - SPARTANS
#Come to Portugal
#Mimosa Bolachas SM
EFACEC - When you grow up
#RENAULT CLIO - DANIEL
#CASTLES - TAVERN SCENE
#BMX
#Nescafé Dolce Gusto
#RENAULT CLIO - DESIGNER
#Go Green
#WELLS - PENELA SCENE
#TRAMS
#RENAULT CLIO - PEDRO
#CAMILE - BISCOCHO
#DAB
#WELLS - CLOISTER SCENE
#Nariz Vermelho
#CASTLES - LIBRARY SCENE
#The Devil"s Picture Book
#WALLS - TOWER SCENE
#JANSEN BEER - GUY
#JANSEN BEER - GIRL
#CASTLES - FIGHT SCENE
#Lisbon Smarter
O que o Diretor de Fotografia faz num filme.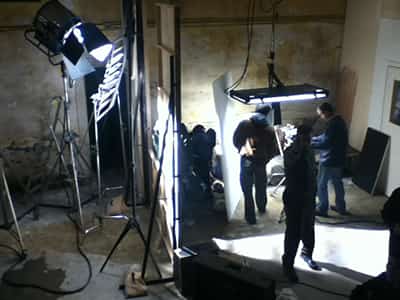 Uma das capacidades mais vitais de um diretor de fotografia é ver a luz e relembrá-la. A "memória da luz" está para o diretor de fotografia assim como a memória melódica está para um músico.
A luz é a componente mais mutável na nossa vida quotidiana. Movemo-nos entre itens fortes e entre pessoas que não mudam radicalmente de um dia para o outro. Visualmente a presença do nosso ambiente e as pessoas ao nosso redor podem mudar de uma hora para outra por causa da estação do dia ou uma fonte específica da luz. O diretor de fotografia é muito cuidadoso com essas progressões e armazena na sua memória o efeito de distintos tipos de luz no nosso subconsciente ou nos nossos sentimentos. As pessoas vêem as alterações da luz na natureza ao longo do dia. O diretor de fotografia deve ser tão observador quanto um pintor impressionista. Claude Monet, pintou a igreja de Rouen do mesmo ponto em diferentes situações do dia. É normal, os diretores de fotografia passam um dia inteiro a observar a variação da luz em um determinado local para poderem reproduzir essa luz em estúdio, numa situação de luz totalmente controlada.
Para um diretor de fotografia, observar a luz, acaba por ser uma segunda natureza. Independentemente de estar num jardim da cidade, num bar, num escritório ou junto ao mar, ele grava na sua memória para relembrar mais tarde numa circunstância comparável num determinado filme. Isso ajuda a tarefa de um diretor de fotografia, que é sem dúvida adicionar o carácter visual do filme.